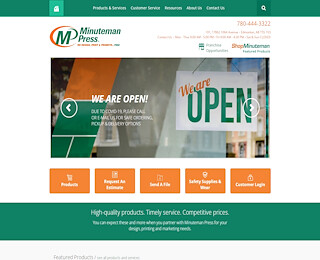 Whether you are just starting a company or if you have a long established company a time will come that you will need high quality business printing in Edmonton. So if you or your company are looking for a resourceful all in one printing solution look no further for your business printing in Edmonton needs then Minuteman Press West.
Minuteman Press West offers a wide variety of business printing in Edmonton. So if you need business cards, brochures, catalogs, flyers, signage, or any other printing needs Minuteman Press West will live up ti it's name by providing you or your company with high quality business printing. We can do almost any printing task that is required. As an all in one solution printing service we are able to start from scratch by creating the design and do all the steps to get the final product, we can even go beyond that by doing mailings.
So next time you are looking for business printing in Edmonton look no further then the Minuteman Press West printing company as we have pride in our quality prints and it shows. Whether you just need blank and white copies to a full color high quality catalog, Minuteman Press West will give you exactly what you want or need to get the job done right. Take a few minutes to look over our website to see the services we offer. Also take about 3 minutes to watch the video we highlight on our homepage to get an idea what we can do for you. If you have a custom printing job done that does not resemble anything we showcase on our website give us a call and see what we can do for you. Contact us directly at 780-444-3322 we are sure you will be happy you did.
Business Printing Edmonton