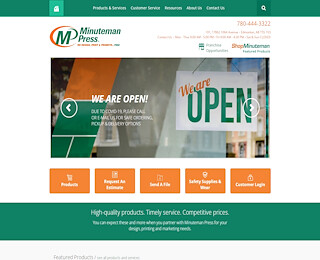 If you need fast printing in Edmonton then you came to the right place! Minuteman Press West offers high quality custom print jobs at affordable prices. We can have your next printing job done quickly. We are also a all in one solution for your printing needs.
We can do everything from step 1 which is creating any designs that may be needed to the last step of printing the high quality prints. We can even go a step beyond that if required and do mailings. So the next time one of your projects require fast printing in Edmonton chose Minuteman Press West your all in one solution printing service. By using Minuteman Press West you are ensured fast printing in Edmonton because we can do digital printing. No matter the media that you need to have created by not having to use the traditional means of printing we can avoid the process of creating and switching out press plates. This not only makes the actual printing of the media quicker but if there is a mistake or an edit that needs to be made it can be done instantly without having to create a whole new press plate.
Minuteman Press West can create many different types of high quality prints be it your normal photocopies to booklets, brochures, calendars, catalogs, flyers, signage, and more we at Minuteman Press West have an eye for the details and we strive to create only quality custom prints no matter the job.
Fast Printing Edmonton