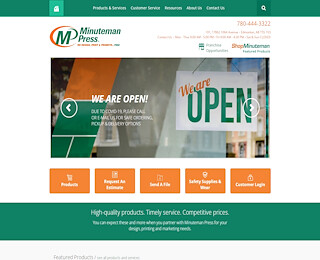 When looking for print shops in Edmonton it is important to select a company that has your best interest in mind. You do not want to pay good money for cheap quality prints. You want what you pay for a high quality print regardless of the format you desire be it just copies of a single page to booklets and catalogs.
Minuteman Press West is your all in one solution print shop. So if you are seeking print shops in Edmonton look no further then minuteman Press West. We design beautiful black and white or full color prints. We can create whatever you need such as: Business cards, copies, booklets, brochures, flyers, signage, catalogs, and so much more!
There is no print shops in Edmonton that can match the quality and price of what Minuteman Press West can offer you. Once you see the finished custom products you will be delighted that you picked us to do your personal or business needs.
Please look over our website and see what services we offer and what we can do for you. Also take a couple minutes to watch the short video on our homepage mmpwest.ca to see some of the many things that we can create and offer to you at affordable prices. With Minuteman Press west you can be assured that you will get nothing less then a high quality custom print job that can stand up to the most professional needs. Drop by or call us today at 780-444-3322 you will be happy you did!
Print Shops Edmonton