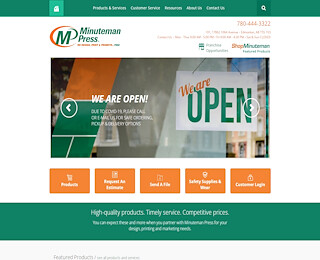 When looking for printing companies in Edmonton it is important that the company can produce the quality of prints you need for the task at hand. Minuteman Press is a printing company in Edmonton that is a all in one solution to your printing needs. We can do everything from designing the graphics to producing the final custom print.
So next time you are looking for printing companies in Edmonton we advise you to look no further then Minuteman Press West. We have attention to detail and ensure that every one of our prints are of the highest quality. By using digital printing we can get even the toughest jobs done quickly by eliminating the need to create and switch around press plates. Also if at the last second any edits need done such as adding or removing certain things or fixing any mistakes it can be done instantly without having to re make any press plates.
Unlike most printing companies in Edmonton we offer a wide variety of printing needs such as: business cards, brochures, catalogs, copies, flyers, signage and so much more. With your input we can design just about anything you need to get your company off the ground. We take pride in our work and ensure that each of our prints are of the highest quality.
Take a few minutes to look over the Minuteman Press West website and see what we can offer you. We also have showcased a short video on our homepage so that you can see even more of the products that we can design and create for you whether it is for business or just something personal such as signage for a birthday party. You will see how our prints stand above the rest.
Printing Companies Edmonton