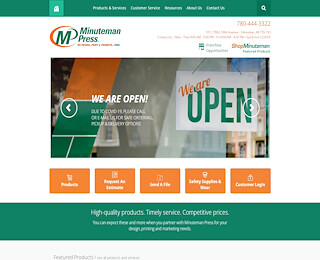 If you are looking for a company to do digital printing in Edmonton you have came to the right place. Look no further then Minuteman Press West to do all of your digital printing or other high quality printing needs. Our digital printing services are top notch and are sure to please.
By using digital printing the process of getting to the final product are much faster then using the traditional means of printing. By taking away the steps of creating and switching printing plates you not only can get the finished product faster but it is also easier to make any changes or edits that may be done to get the desired results from the finished prints.
Minuteman Press West offers the best digital printing in Edmonton services. We stand by our high quality custom prints and we have an eye for the details. We offer a all in one solution from creating the designs that may be needed for the prints to the final production of the prints. We also offer a wide range of creative printing needs. Whether you need business cards, brochures, catalogs, or just plain old copies of a single sheet of paper Minuteman Press West strives to make you happy by making the highest quality prints available. Take a few minutes to look over our website and even check out our short 3 minute video to see what we can offer to you. If you need a custom print job done and do not see anything like it on our site gives us a call at 780-444-3322 and we will see what we can do for you.
Digital Printing Edmonton